This NetRing made possible by



  Do you live in Minnesota ??  You do !  Well, then you've met the main requirement for membership in the Minnesota Folks NetRing. The rest of the requirements ? Well, they're pretty simple.

No commercial sites.

Child safe and family friendly.

If at all possible the NetRing code should be placed on your main page.

Other than that, your site content can be about anything from Grandparents to Genealogy to crochet  to fishing and the outdoors ! I started this NetRing because I know there are lots of Great Minnesota folks out there that have created some great Web sites and I was unable to find a NetRing just for Minnesotan's that weren't about a specific topic.  So ...             Here it is !!




Okay, here's how it works ....

Fill out and submit the form below. Remember, the URL that you put on the form must be the URL of the page on which you
are going to place the NetRing code snippet.

Download the NetRing Graphic. Follow the instructions under the Web graphic displayed below.

You will recieve an Email containing the NetRing code and stating your site has been put in the Ring queue.

Add the Ring code and graphic to your page. Then send me an Email with   "Ring code installed"   in the subject
    line.

Then I will review your Web page and test the ring code. If everything looks good I will add your Web page to the ring.

You will then receive another Email containing your "Site ID" and "password"
    Save this Email !  In case you forget your password !  Your Site ID and password are necessary in order to edit your site
    information for the NetRing.

You will have 7 days from the time you receive the email with the Ring code in it, to place the Ring code on your page and
    notify me with the above email. If after 7 days you have not notified me that you have placed the code on your page your
    site will be remove from the queue and you will have to re-submit.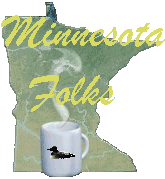 Instructions for downloading
1.  Right click on the Mn Folks graphic above.
2.  In the menu that appears click on "Save image as".
3.  A "Save As" window will open. Save the graphic to
    a location on your hard drive where you will remember
where you saved it.
4.  Then upload the graphic to your Web page server.


Use the following form to login and edit your Minnesota Folks Netring information
Questions, Comments, Suggestions ? Send me an Email

Jeff Lee - NetRing Manager Minnesota Folks Netring ...


Minnesota Folks made possible by

Ringsurf